PIERRE DE BETHMANN QUARTET
#ArtoftheQuartet

A quartet as a complete world, based on both deep personal musical writing and intense collective play, two key ideas to face with a smile all aspects of a post-pandemic world, its uncertainty, its violence, and maybe its promises.

Thus, during multiple duo sessions, Pierre de Bethmann and Antoine Paganotti rediscovered themselves as neighbors at the end of the very first lockdown period, impatiently waiting for the moment to call Simon Tailleu, pillar of the Médium Ensemble, and David El Malek, immense partner of the ilium years, whose tenor playing has long established himself as one of the strongest voices of contemporary European jazz.
A complete world then, made of more or less expected forms, more or less tame melodic lines, more or less complex harmonies and rhythms... "and yet it sure swings". At least it's the way these four personalities feel about it, as they both share the love of a deep musical culture, as much as faith in a possible artistic future, together above all.

Perhaps also to recall the profound nature of art, even in a post-modern slump, as a source of emotion as much as of freedom, accepting all mysteries of existence to allow joy.
---
Spring 2023 : Reissue of GO (originally released in 2012 by Nocturne / Plus Loin)
2023 - 2024 : two new albums to come

---
Pierre de Bethmann, born in 1965 in Paris, was awarded Grand Prix Jazz de l'Académie Charles Cros 2016, Victoires du Jazz 2008, Django Reinhardt Prize 2004 (French Musician of the Year), Django d'Or 1998 (Prysm, Ensemble of the Year), and First Prize at Concours de La Défense 1994. He has teached at CNSMDP since 2008 (Conservatoire National Supérieur de Musique et de Danse de Paris).

Albums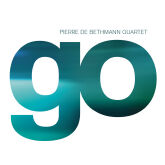 Upcoming gigs
Videos
Previous gigs
Current musicians
Pierre de Bethmann
p, kb
David El Malek
ts
Simon Tailleu
b
Antoine Paganotti
dms