PIERRE DE BETHMANN TRIO
#StandardAcousticTrio
Pierre de Bethmann continues his journey with a new trio formula, with outstanding guitarist Nelson Veras joining his voice to that of the piano and Sylvain Romano's double bass.
Thus, with a more intimate sound but nevertheless marked by strong personalities, this new trio continues to explore all the richness of a repertoire made of standards from multiple musical traditions, sometimes transformed by the musicians' harmonic and rhythmic inspiration, sometimes chosen on the spot.
A new trio for a very special group sound, with two exceptional partners, whose careers speak for themselves, and who never tire of cultivating the science of music as an art of living.
---
The four albums, Essais Vol1, Vol2, Vol3 & Vol4, produced by ALÉA, grouped together in a box set with a special supplement released in November 2020, were successively Indispensable JazzNews, Choc Jazz Magazine, fff Télérama, Top Mezzo, Elu Citizen Jazz, Hit Couleurs Jazz.

The fifth album Essais / Volume 5 was released in January 2020, and was awarded a Choc Jazz Magazine and Indispensable JazzNews.
---
Pierre de Bethmann, born in 1965 in Paris, was awarded Grand Prix Jazz de l'Académie Charles Cros 2016, Victoires du Jazz 2008, Django Reinhardt Prize 2004 (French Musician of the Year), Django d'Or 1998 (Prysm, Ensemble of the Year), and First Prize at Concours de La Défense 1994. He has teached at CNSMDP since 2008 (Conservatoire National Supérieur de Musique et de Danse de Paris).

Albums
Upcoming gigs
Videos
Previous gigs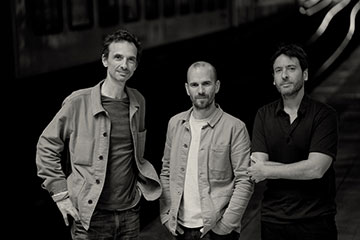 Current musicians
Pierre de Bethmann
piano
Sylvain Romano
b
Nelson Veras
g