PIERRE DE BETHMANN TRIO
#StandardTrio
Long after Prysm and different steps of the ilium project, Pierre de Bethmann goes back to the trio.
To explore standards from several musical traditions, again and again, sometimes reshaping them harmonically or rhythmically, sometimes trying them on the spot, always digging a little further.
With two outstanding partners, whose careers speak for themselves, who swing as they breathe, and love to share natural things.
And try, again and again, as a permanent "Essai", out of clichés, just taking the time.
Next step ? Not sure we really know... not really a problem.
Four albums Essais Vol1, Vol2, Vol3 & Vol4, produced by label ALEA, the latest was released along with a new boxset assembling all volumes, were successively awarded Indispensable JazzNews, Choc Jazz Magazine, fff Télérama, Top Mezzo, Elu Citizen Jazz, Hit Couleurs Jazz.
Pierre de Bethmann was awarded Grand Prix Jazz de l'Académie Charles Cros 2016, Victoires du Jazz 2008, Django Reinhardt Prize 2004 - French Musician of the Year, Django d'Or 1998 - Ensemble of the Year (Prysm), and First Prize at Concours de La Défense 1994.
New album Essais / Volume 5
January 20, 2023

Albums
Upcoming gigs
Fri 17 February 2023
Sat 18 February 2023
Paris
Sunside-Sunset
Sortie de l'album Essais / Volume 5
Videos
Previous gigs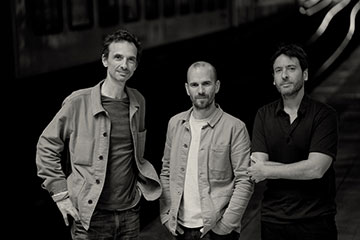 Current musicians
Pierre de Bethmann
piano
Sylvain Romano
b
Nelson Veras
g
Press
2022




2021




2020




2018




2017




2016




2015