PIERRE DE BETHMANN MEDIUM ENSEMBLE
A very special ensemble of soloists
Original music for a 12 piece band, all members being major soloists of the French contemporary jazz scene.

Released November 4. 2016, MEDIUM ENSEMBLE VOLUME 2 / EXO was awarded Grand Prix Jazz de l'ACADEMIE CHARLES CROS, and was played live @ New Morning (Paris) on January 21 2017.

Volume 3 in process, to be played first time June 2018 @ Saint Quentin en Yvelines.

Albums
Videos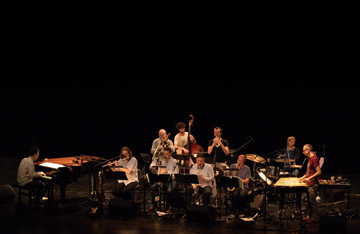 Musicians
Pierre de Bethmann
piano
Chloé Cailleton
voc
Stéphane Guillaume
flûtes
Sylvain Beuf
sax alto
David El-Malek
sax ténor
Thomas Savy
b-cl
Sylvain Gontard
tp, flh
Denis Leloup
tb
Camille Lebrequier
cor
Bastien Stil
tuba, tb
Simon Tailleu
b
Karl Jannuska
dms