PIERRE DE BETHMANN TRIO
Standards, from multiple musical origins.

Long after Prysm and different steps of the ilium project, Pierre de Bethmann goes back to the trio.
To explore standards from several musical traditions, again and again, sometimes reshaping them harmonically or rhythmically, sometimes trying them on the spot, always digging a little further.
With two outstanding partners, whose careers speak for themselves, who swing as they breathe, and love to share natural things.
And try, again and again, as a permanent "Essai", out of clichés, just taking the time.
Next step ? Not sure we really know... not really a problem.

Four albums Essais Vol1, Vol2, Vol3 & Vol4 were produced by label ALEA, the latest was released in November 2020, along with a new boxset assembling all volumes.

Albums
Upcoming gigs
Tue 10 August 2021
Wed 11 August 2021
Paris
Sunside-Sunset
Thu 16 September 2021
Anglet
Anglet Jazz Festival
Wed 10 November 2021
Valenciennes
Le Phénix
Tue 1 February 2022
Le Perreux
Centre des Bords de Marne
Sat 12 February 2022
Saint-Céré
Videos
Previous gigs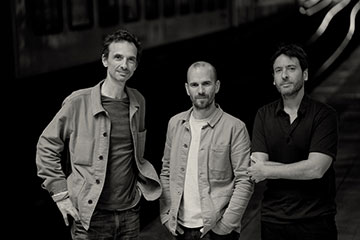 Musicians
Pierre de Bethmann
piano
Sylvain Romano
b
Tony Rabeson
dms
Press
2021




2020




2018




2017




2016




2015